Consumer expectations have evolved more rapidly in the past five to ten years than in the previous 50. That's why, in today's marketplace, carefully crafted customer journeys are critical to your success. Many business sectors have embraced this rapid evolution, but a few are still playing catch up. As we visit with current and future customers, a few business segments stand out as falling behind their customers' expectations. Most notably, businesses with long onboarding processes such as life insurance and mortgage providers.
We've coined the term, Global Impatience when referring to these new consumer expectations. We're all distracted by our digital lives. We want things right now as a result of the broad digital transformation across retail and service industries. We expect companies to talk to us on our preferred channels, such as text for notifications and chat for conversations. And email has quickly fallen out of our favor as we prefer text on the mobile devices always at our side.
Digitally Challenged
Some of the difficulty of pivoting to consumers' new expectations lies in these companies' legacy systems. And the larger the enterprise, as we know, the longer any change will take. These are the digitally challenged companies. Email, phone, and physical "snail mail" are still the preferred methods to communicate with current and future customers. And with the US Post Office in a sorry state, physical mail has become a liability for important information or notifications. Email is no better; we're all inundated with so much spam that it has become a low-priority channel for us.
Communications Platforms as a Service
Thankfully, in today's cloud-based CPaaS world, many "bolt-on" solutions can provide relief for the digitally challenged. Relief in the form of outbound and 2-way text messaging. Let's examine a fictitious customer journey, that of James. He is applying for no-physical life insurance for himself and his wife as they approach retirement. His journey could also apply to a mortgage application, as the length of onboarding can be very similar. We'll take you through some common stumbles in the journey with a digitally challenged company and show how being digitally enabled transforms the experience.
Pre-Customer: Application
For the most part, this can be relatively easy, if not time-consuming. Most life insurance providers have multiple ways to apply, such as a physical paper application, an online form, or even a customer service agent call. James knows that mail is now unreliable, so he calls to apply over the phone.
Digitally Enabled: This is the perfect opportunity to ask James to opt-in to text messaging and confirm his mobile phone number. I'm sure your calls are being recorded, so TCPA compliance in this scenario should be a breeze (check with your legal team).
Pre-Customer: Application Complete
Okay, James and his wife applied. Now what? Days can often go by with no follow-up communications. Customers accustomed to being in control hate this kind of uncertainty.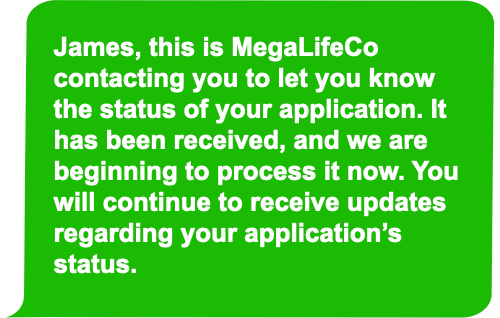 Digitally Enabled: You sent James a confirmation text within hours of his application. Another text message would go out a few days later to let him know his applications are being processed. And later, another text messaging is sent letting him know that the applications are in underwriting. Proactive and consistent communications not only eliminates uncertainty but it's also a clear sign that you know James is in control. James likes that.
Pre-Customer: Should I send a check? Scenario one.
There can be much uncertainty in these early stages of the customer journey with a digitally challenged mortgage or insurance company. James knows he needs to make a payment, but two weeks after applying, he still doesn't have his enrollment package in the mail. So James sends in his first payment to be sure that coverage starts. But a few days later, he receives a letter in the mail from underwriting with some additional questions.
Digitally Enabled: You sent James a notification that underwriting has a few questions. With 2-way texting and a simple bot, you're able to arrange a convenient time to call James. This step shows your customers, and in this case, a future customer, that you know their time is valuable. And doing so on their preferred channel, text messaging, exemplifies your willingness to go above and beyond.
Pre-Customer: Should I send a check? Scenario two.
With uncertainty plaguing James, he calls customer service. Once he gets an agent, they can't look up his information without a policy number. Without a policy number, James can't check his status on the member portal either. The extended uncertainty is causing James to wonder if he and his wife made the right decision.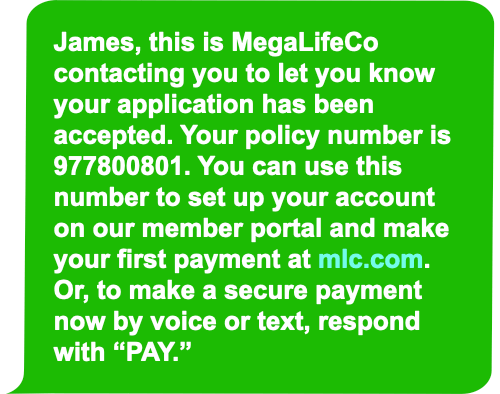 Digitally Enabled: James's application has been accepted, and you immediately send him a text message with his policy number. In the text, you offer James an option to pay by text or make a secure payment by phone. Payment options are important. More and more consumers are preferring the simplicity of pay by text (also referred to as text2pay). When your payment gateway has tokenized your customers' payment information, paying by text can be as simple as texting "PAY."
Pre-Customer: Satisfaction Survey
Digitally Enabled: Discover issues in your onboarding process early, and present an ideal text-messaging opt-in experience. Take advantage of outbound voice surveys to check in on your future customer and get feedback on the underwriting or other onboarding processes. The survey voice message could offer an opt-in to text messaging and send the survey questions by text.
Customer: Making Payments
We've heard from our customers in the life insurance and mortgage industries that it's not uncommon for many customers to miss payments while on holiday or while taking extended seasonal vacations at a second residence. The cause ranges from improperly setting up automatic payments to just plain forgetfulness while soaking in the sun. Depending on how many payments are late or missed, the outcome can become fairly serious for your customer.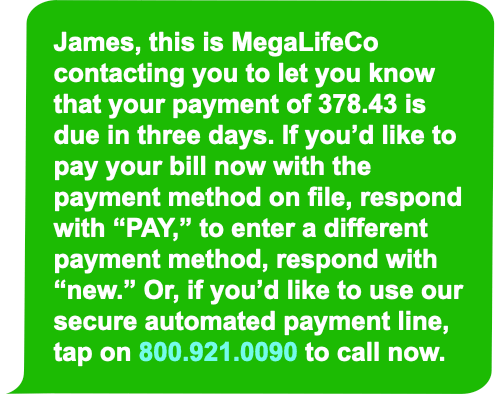 Digitally Enabled: Since James opted-in to receiving text messages, you're able to send him reminders that his next payment will be due soon. Your reminder offers him the option to pay right now by text message, a phone number to make an IVR payment, and a link to your portal. James knows and appreciates that your payment reminders always come and are a worry-free way for him to enjoy the sun.
Customer: Special Offers & Promotions
We've said it before, we'll say it again, the US Postal Service has become unreliable. Your mailers to customers with promotions, upgrades, and other offers may arrive too late or not at all. And with email becoming an unimportant channel, you're likely missing out on reaching all your customers.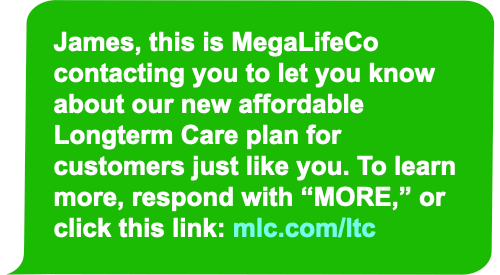 Digitally Enabled: As you get more and more customers to opt-in to text messaging, you increase your outreach effectiveness. Sending short texts with brief information about offers and promotions, with a link, is highly effective for a broad range of business verticals. Just be careful and follow our Texting For Business Etiquette guide.
Digitally Enabled Customer Journeys
While the journey we highlighted here may not match your customers' experience, hopefully, it sparked some ideas on enhancing your customers' journeys digitally. We help businesses of all sizes in nearly all verticals improve their customer journeys with our Managed CPaaS, the Compass Automation Platform. If you'd like to chat with us about your customers, contact us today, and we'll help you get the results you need.
about the author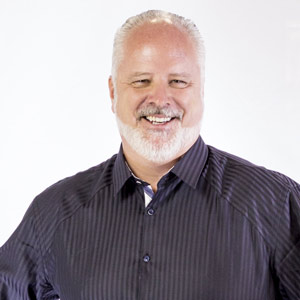 Bill Irvine
CMO, IVR Technology Group
An avid User Experience Evangelist and design junkie, Bill oversees all things marketing, design, and social media for IVR Technology Group. When he's not doing that, he "unplugs" as a gentleman farmer, carpenter, and executive chef to his wife.