Self-Service, Built For Your Customers
A full-stack Managed Communications Platform as a Service, the Compass Automation Platform is purpose-built to deliver the results you need.
As a managed platform, you don't need to devote IT resources to integrate a CPaaS into your customer service stack. We are your communications automation partner, creating the voice and text applications your customers need and managing the hosting, security, and telephony networks your technology team requires.
Conversational AI
Engage customers with conversations, not prompts or menus.
Integrated
Easily connects to your customer data, and other external data sources.
Made To Order
Voice and text applications specific to your customer's needs.
Managed
You don't need to worry about maintenance, upgrades, security, etc.
Compatible
Compatible with any UCaaS, CCaaS, or other enterprise phone system.
CX-First
Your voice & text applications are built by experienced CX experts.
Compass Automation Platform
You can think of us as a systems integrator and managed services provider for our proprietary CPaaS. And, as a full-stack CPaaS, it functions like the web servers of your favorite websites and social media platforms, using instructions to combine sources of information to deliver results as web pages and mobile apps. Only in our case the results are provided as voice and text over telephony networks and chat.
The diagram below highlights how we connect all your disparate data sources to the Compass Automation Platform. Once connected, there are three prefabricated applications; automated voice surveys, automated payments by voice and text, and outbound campaigns by voice and text. Additionally, your data provides the ability for a wide range of engagement automation applications by voice and text for contact centers and customer service.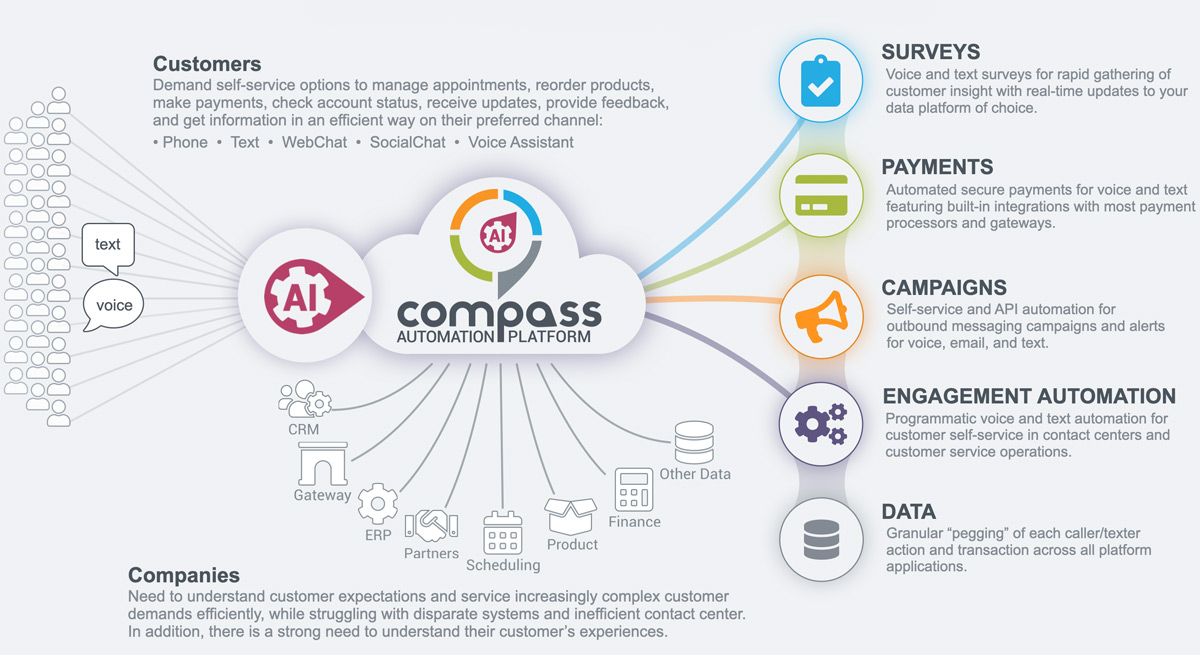 Benefits

Of a Managed Communications Platform as a Service
Minimal Technical Lift
Many companies that need a CPaaS do not have the IT talent or capacity to integrate telephony APIs or customize their existing IVR system. If this is you, we can help. We refine the Compass Automation Platform's core applications to the exact solution you need for your customers' journeys.
Perhaps you are outsourcing your contact center needs to one or more vendors. In that case, you need to control the automation to route call traffic and provide consistent service. The Compass Automation Platform is your new layer of sophisticated customer service automation. Your customers will have the same exceptional self-service experience across all your contact center vendors.
Managed Security
Customer service automation typically involves the transmission of sensitive data, from credit card information to healthcare treatment. We are a security-first organization and engage in regular annual audits to maintain our PCI-DSS Level-1 Service Provider status and manage SOC 2 mapped to HITRUST controls. Additionally, we are HIPAA compliant for healthcare applications and NACHA compliant for accepting secure e-check payments.
We're Your Partner, For Your Customers
Here it is, perhaps, our most critical benefit to you and your organization; we are your CX automation department. Before we begin glossing your eyes with our features and solutions, we take the time to learn what you need. We work to understand what you need to accomplish, the results you need, and what will help your customers. Then we can begin discussing the exact solution to achieve the results and cost savings you need.
With today's ever-evolving customer journeys, we continue to stand by your side. We enable you to respond to those evolving journeys and finding new ways to save you money along the way.
Let Us Help Solve Your Issues
And get the results you need