Text-to-Pay is becoming a prevalent topic of conversation among current and future clients. And it's for a good reason. Paying by text message is the easiest way to pay your bills. In the age of COVID-19, it's the most touch-free payment method available. Best of all, from a customer experience standpoint, nothing could be more simple. But the issue often comes down to making customers aware and making it easy to opt-in. Because as we like to say, "it's all fun-and-games until no one makes a payment by text."
We've written a short primer on driving the awareness and adoption of payments by phone. Everything there also applies to text payments. And for customers already making electronic payments through your billing portal, signing up for text payments can require just checking a box. But it's important to keep reminding your customers of the service and offer more than one way to opt-in.
Constant Reminders
Your website should have prominent call-outs to your Text-to-Pay option, but so should every physical location your customers frequent. Those physical reminders could call people to text "PAY" to your payment phone number. With a CPaaS (Communications Platform as a Service) integrated into your CRM that drives your 2-way texting, creating the message flow is easy.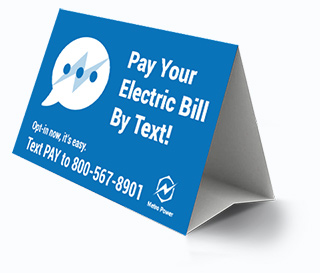 Making Opt-In Easy
Imagine a typical customer, James, who receives their statement by mail, writes a check and mails it in. Perhaps James has seen your statement-stuffers promoting paying by phone or text, but he's busy and just wants to pay the bill. Like many working people, James never thinks about paying the bill until it arrives in the mail again. But if he sees a reminder that he can opt-in to Text-to-Pay by merely texting "PAY," that might be the hook he needed.
The best practice here is to ensure that the phone number you use to accept IVR payments is enabled for 2-way texting. Receiving text messages on your payments line helps to present a seamless solution to your customers.
Opt-In Message Flow
At this stage, there two paths your message flow can go:
You know James because his mobile phone number is attached to his account. Your CPaaS has looked up his account information, and all you need to do is confirm his opt-in.
You don't know it's James yet, so we need to see who's texting. Depending on your system, you might need something as simple as a portion of the account number and the last four digits of the account holder's Social Security number.
Let's assume path two. The 2-way text exchange asks for a portion of James' account number, then confirms by requesting the last four digits of his social security number.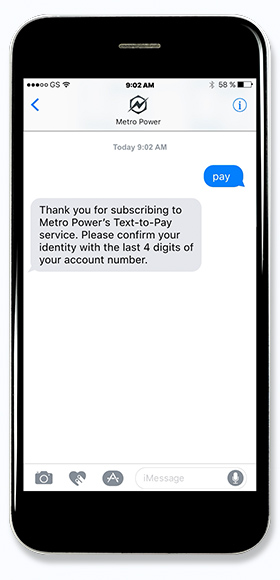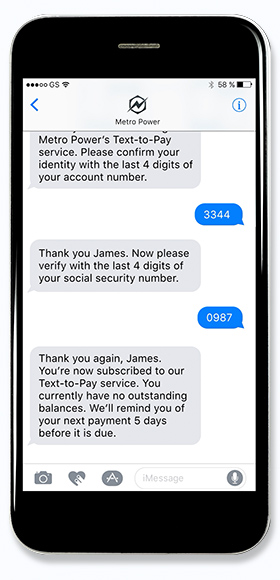 And We're Done!
Just like that, in seconds, you've converted someone who doesn't use your e-billing portal, into someone who receives payment reminders by text and makes electronic payments. With the possible "lucky strike extra" of impressing James with your impeccable attention to detail in your customer experience.
This method is one of many ways we help our customers drive awareness and adoption of payments by text. To learn more about payments by text or phone, contact us, and we'll be happy to learn how we can help.