The Compass Automation Platform

Made To Order Voice & Text Applications On Our Managed CPaaS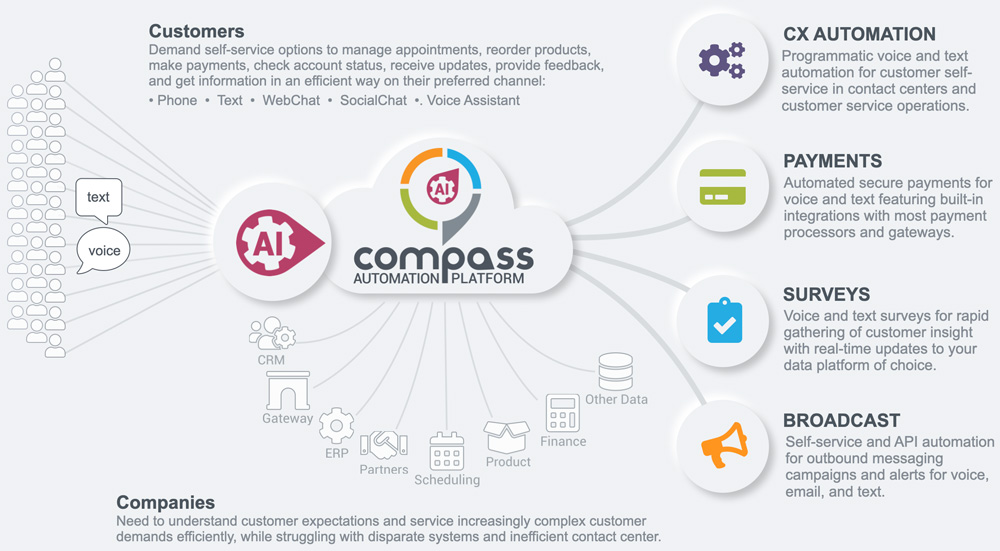 Customers Expect More
Today, more than two-thirds of people surveyed say they'd prefer getting the information or resolution they need without speaking to an agent. And since today's consumers are likely to switch brands after just one bad experience, you need to be able to respond to their expectations.
We're On Your Team
You can think of us as the CX automation department of your internal technology team. Using our no-code managed CPaaS, we craft voice and text automation solutions tailored to get the results you need.
Minimal Technical Lift
We manage the hosting, data, security, and telecommunications networks necessary to deploy your CX automation. We're "security-first," as a PCI-DSS Level-1 Service Provider managing SOC 2 mapped to HITRUST controls with HIPAA and NACHA compliance.
Learn More

About CX Automation With Our Managed Communications Platform as a Service
Let Us Help Solve Your Issues
And get the results you need