Engagement Automation,

Expertly Crafted For Customer Delight
Voice
Surveys
More responses. Better data. →
Increased response rates by 3x, get more completions, and real-time results with the Voice Channel for Qualtrics surveys.
Automated
Payments
Receive payments by voice or text. →
Frictionless 24/7 payment method your customers will love, while you descope PCI compliance and reduce costs.
Outbound
Campaigns
High-volume omnichannel campaigns. →
Be proactive with personalized outbound voice, text, or email campaigns that amplify customer experiences.
Customers Expect Automation

Go Beyond Self-Service And Be Engaging
Your customers have evolved. Their decisions to purchase, repurchase, and frequent brands revolve around their experience. They expect more from the brands they choose. Delivering experiences sufficient to retain customers is the new normal. Engaging with customers on their channel of choice is the next tier of customer experience excellence, engagement that transforms retained customers into brand champions.
In 2022, we've helped hundreds of companies like yours engage with their customers in four primary ways:
560k+
560,000+ ingested voice surveys.
$745M
$745 Million in automated payments.
1.2M
1.2 Million outbound campaign messages.
150M
150+ Million minutes of voice automation.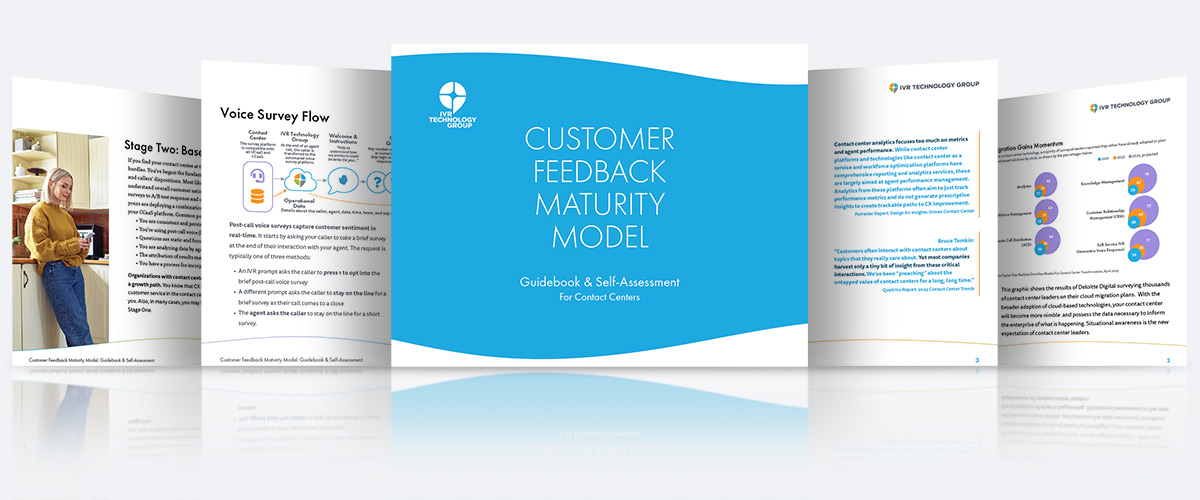 Download Our Customer Feedback Maturity Model Guidebook
Customer service, especially in the contact center, is a primary driver of the customer experience. Contact centers must focus on gathering impactful real-time insights to generate, control, and manage CX outcomes. Download our free guidebook to learn more.
A leading electronic billing platform has been using our automated payments by phone and text solution for nearly ten years. "IVR Technology Group's pay by phone solution is responsible for 15% of our total revenue. And best of all, their technology just works."
–CEO of Electronic Billing Platform
Emailed web-based customer surveys are experiencing an alarming drop in response rates. Even when incentivizing with gift cards, it can be challenging to gather enough responses. When you're collecting the voice of your customer, your sample size is critical. In most cases, integrated automated surveys by phone will dramatically increase your ingested responses.
Automated Voice Surveys →
Quantify The ROI Of Voice Surveys →
All About IVR Voice Surveys →
People expect options, especially contactless options, when it comes time to pay a bill, fee, fine, or even local taxes. Municipalities and utilities often see a minimum of 15% more payments when offering automated payments by phone or text, payments that would otherwise be through paper checks. Electronic billing platforms also see a 15% or more increase in overall revenue, as more people pay by phone instead of by paper check.
Automated Payments By Phone & Text →
Video: Payments By Chatbot →
The Impact Of Automated Payments by Phone →
Text messaging has become the communications channel of choice for people of all demographics. Engage your customers with informative alerts and information through outbound campaigns. Campaigns can be small, such as reducing accounts receivable through payment reminders, then accepting your customer's payment by text. Or massive by sending class action lawsuit updates to thousands of people and parties in the class.
Outbound Voice & Text Campaigns →
Stay In Front Of Your Customers →
Texting Etiquette For Business →
Let Us Help Solve Your Issues
And get the results you need