IVR or Interactive Voice Response software accepts caller input, either voice or touch-tone, in response to pre-recorded prompts, and provides programmed responses. The responses can range from simple call routing to complex actions involving several external systems and data points depending on the software's sophistication. The name, "interactive voice response" is derived from the caller responding to interactive options, offered by a pre-recorded voice. It's not to be confused with smart speakers that "interactively" "respond" to our voice commands, which is a voice user interface.
IVR systems have been in operation since the early 1980s and first appeared in use for large airline reservation call centers. Those first-generation systems couldn't do more than "Press one for reservations, Press two for status." Today, sophisticated IVR systems such as our managed CPaaS, the Compass Automation Platform, can easily use APIs (application programming interface) to interact with any number of external systems and data for complex actions. Those actions typically fall into one of six categories: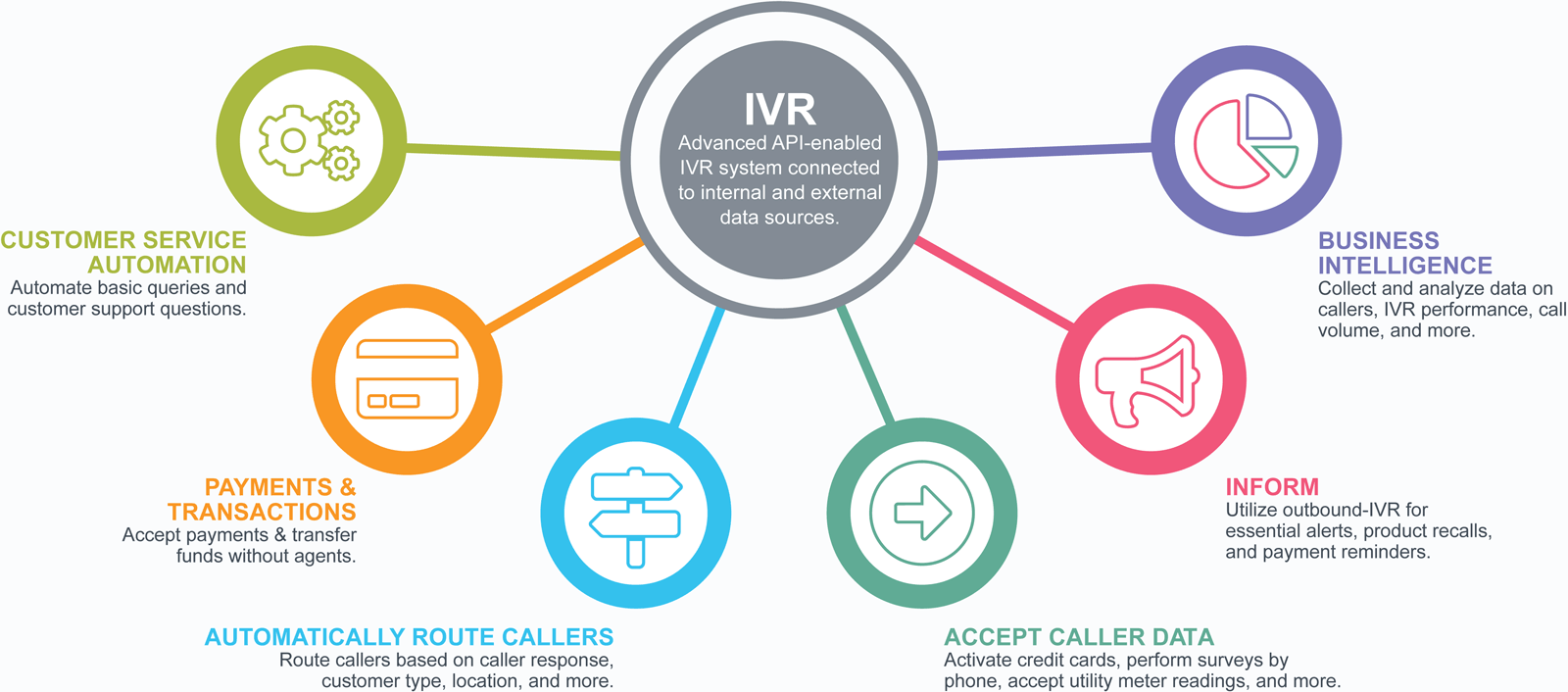 As you can see by the illustration, contemporary use of the term "IVR," often refers to a broad range of automation services.
Customer Service Automation
The most common use of modern connected IVRs is for the delivery of a range of customer service automation solutions. When first introduced in the early 2000s, industry analysts were predicting the "death of the call center." When, in fact, contact centers have never been more relevant. IVR automation hasn't replaced human agents; it's made the call center faster, better, and more efficient.
The most significant advantage connected IVRs offer customer service operations is the ability to know your customer (KYC) instantly. Through CallerID and connections to your customer database, the system can immediately identify which customer is calling. Voice biometrics or the last-4 digits of social security numbers can authenticate the caller.
Typical customer service automation uses include:
Resume a previous call: if the caller is troubleshooting a problem, send them to the next step.
Order status & lookup: when connected to your customer data, provide updates on order status.
Financial information: provide account balances, available credit, payment dates, stock quotes, and more.
Product information: offer information on product updates, recalls, instructions, and more.
Report service issues: enable the caller to report service outages for cable, Internet, electricity, and others.
Troubleshoot product problems: help callers potentially self-repair issues with Internet connectivity, satellite TV, and more.
Post-Call & Outbound Voice Surveys
IVR systems are ideally suited for rapid collection of customer feedback. Automated voice surveys are a low-friction way to get more ingested responses into your Qualtrics dashboard. Post-call surveys, immediately after a contact center agent interaction, capture feedback when it's most fresh and honest at the moment of contact. Better data means highly relevant insights.
Survey results and operational data appear in your Qualtrics dashboard immediately upon completion of the survey. More and better data in real-time will accelerate your speed to insight, arming your CX and CS teams with unparalleled strategic agility.
Typical uses of automated post-call and outbound voice surveys include:
Agent performance: receive real-time feedback from callers on how effective the contact center agent handled their issues.
Customer Pulse Surveys: capture customer input at key moments such as an in-store purchase or product upgrades.
NPS: keep on top of the overall opinion of your customers.
HR:  provide call-in surveys to qualify employees for medical, family, and emergency time-off requests.
Market research: capture customer reactions to new products and services.
Download our Automated Voice Surveys eBook.
Payments & Transactions
IVR systems are ideal for providing 24/7 access to paying bills. And for e-billing platforms, it's another source of electronic payment revenue. All that is necessary is a connection between your payment processor or gateway and IVR system.
Pay all types of bills: utility bills, rent, HOA fees, and others.
Manage recurring payment options: callers can authorize recurring payments.
Save & manage stored payment info: callers can authorize storing payment information (tokenized).
Make partial payments: when necessary, partial payments are possible.
Security (PCI): mitigate your security risks with a PCI-DSS Level-1 certified IVR vendor.
Download our Automated Payments by Phone eBook.
Automatically Route Callers
One of the first core uses of an IVR is to route callers to the correct destination efficiently. In modern systems, rules for routing calls can be equally sophisticated as payments and customer service automation.
Based on IVR response: send callers to the correct department based on IVR prompt responses
Based on time-of-day/week: establish rules based on time of day or day of the week.
Based on area code: route calls based on the caller's area code.
Based on geographic info: when area code isn't granular enough, geographic location can determine call routing.
Based on customer information: when you know your customer, route their call based on product/service mix, or previous call status.
Accept Caller Data
Automation for infrequent but essential customer service tasks is more efficient and cost-effective through an IVR system.
Activate credit cards: new or replacement card activation.
Multi-factor authentication: when needing extra security, an IVR system can call or text customers with an OTP (one-time-password).
Utility meter readings: first-time or moving utility customers can quickly provide meter readings.
Broadcast Information
Outbound IVRs offer all the advantages of inbound systems, but with the ability to auto-dial customers. In many cases, the ability to send emails and text messages are part of an outbound solution.
Critical service alerts: notify customers of water main breaks, utility outages, and urgent planned outages.
Relevant product recalls: easily comply with any legal requirements for multimodal messaging
Payment reminders: send notifications of upcoming or late payments.
Weather warnings: push critical weather alerts.
Class action updates: update class participants of news and rulings in class action lawsuits.
Business Intelligence
Finally, with all the possibilities of automated services, comes a near-endless supply of data.
Call volume patterns: get instant access to call volume and sources to identify potential issues or areas for refinement.
Regional caller patterns: get granular data on call volume based on region, area code, and more.
IVR operation & flow: analyze the performance of the IVR system to refine and improve continually.
Identify problem patterns: utilize big data visualization tools to highlight broader trends over time.
Transaction volume: get real-time reports on the quantity and amount of customer transactions.
It's Not Your Mother's IVR
This overview is just a primer on the many advances of IVR systems over the past two decades. With quality connected data, there are very few limitations in delivering transformative customer experiences. And in many cases, an IVR system can save your contact center thousands of dollars in operational costs. Contact us to learn more about how a modern connected IVR can transform your business.