For decades, we've used Interactive Voice Response technology to pay bills, check product pricing and availability, schedule appointments, and much more. As IVR technology becomes simpler and simpler to deploy, many organizations find themselves determine where to implement IVR capabilities versus having a live agent. So, here are some reasons and areas you may choose IVR solutions over a live agent.
Customers First
First and foremost is the customer experience; always think "customers first." For example, if your customers are traditional working people, they may not be able to call you during business hours. Make sure you can serve them 24 hours a day, 7 days a week, 365 days a year. An IVR system often does this since the cost of staffing around the clock can be costly. So, think about your customers first. When do they need to reach you? If it's after-hours, that's a good sign for an IVR solution.
Savings Through Automation
Second, the cost savings that automation can bring to your operation. The fact is, an IVR solution can be 15x less expensive than a live agent. If a live agent isn't necessary, you can usually leverage an IVR at a much less costly rate. Below is a sample of cost comparison model to a live agent versus an IVR system showing 10x performance and/or 10x less cost with an IVR solution.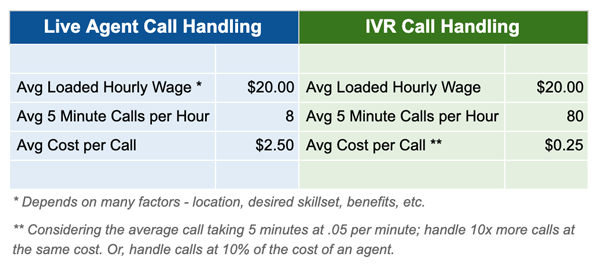 Increase Your Efficiency
Third, how many calls (or texts) might you need to accommodate at one time? If your organization receives a high number of calls (or text messages) over a short period, an IVR system is much more scalable. So, if your outages impact thousands of people, or marketing generates a sudden high call volume, you're a good candidate for a cloud-based IVR solution.
Enhance Security & Compliance
Fourth, IVR solutions are great for security. If you're taking payments or information, people might consider sensitive for confidential; an automated IVR solution might be more appealing to your callers. Think about the last time you had to "call out" your credit card number over a phone call… not a great customer experience, and who is this person I'm giving my credit card to over the phone.
Happy Customers
And finally, eliminate hold times. That's right, with a scalable cloud-based IVR solution, you can take thousands of calls at once and handle all of them with the IVR versus placing them on hold and telling them the wait time.
In summary, cloud-based IVR solutions are less expensive and more scalable and secure than live agents. When you need high touch service, leverage a live agent. When you need simplicity, efficiencies, and economies of scale, IVR technology is the way to go.
about the author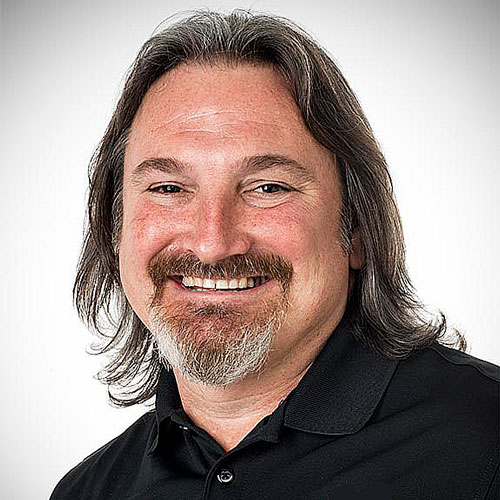 Jim Barker
Chief Revenue Officer, IVR Technology Group
An avid Customer Experience Evangelist, Jim is the Chief Revenue Officer with IVR Technology Group. In this role, Jim leads the teams responsible for marketing, business development, sales and partner growth for IVR Technology Group.