Automated IVR Voice Surveys

Real-Time Feedback At The Moment Of Contact
For Contact Centers
In contact centers, the customer experience happens in real-time. As a result, the acceleration from a loyal to dissatisfied customer can be mere minutes. The shift from loyal to dissatisfied is often due to a gap between understanding their actual experiences and what experiences you intended. To identify and fix the gap, you need real-time customer feedback at the moment of contact, when the opinion is fresh.
Real-Time Feedback
The best way to rapidly close the gap between actual and intended customer experiences is through a post-call voice survey. This way, we help you capture vital customer feedback at the moment of contact while still having them on the line. Their opinion will be fresh, and providing it is frictionless.
Identify Issues Now
Automated voice surveys by phone capture feedback at the moment of contact and feed your Qualtrics or other CX analytics platform in real-time. Armed with real-time data, as it happens, you'll be able to quantify and quickly address issues causing the gap. Perhaps the cause is something as simple as agent training that missed the mark. With real-time data, you can identify such problems in hours, not weeks.
Request a free consultation to see how real-time voice survey results can achieve a substantial ROI while boosting CX.
A Typical Voice Survey Call-Flow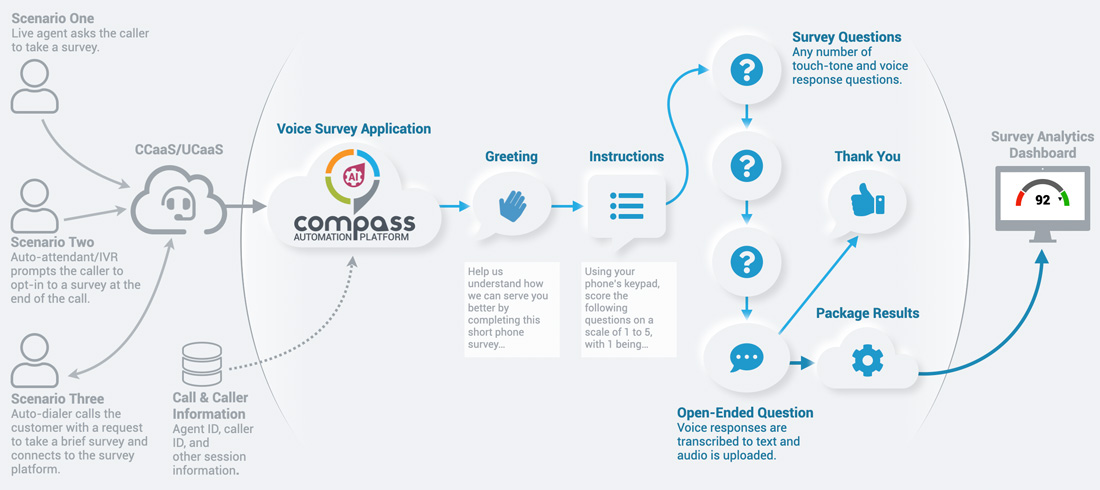 Learn More

About Voice Surveys With Our Managed Communications Platform as a Service