This week Donald Trump accepted the Republican Party's nomination to run for President against Hillary Clinton. The path he took to Cleveland broke tradition, adopted new technology, and applied a brand. Love him or loathe him, there is a lesson to be learned from the methods he took. Is your business holding on to old, traditional methods when it comes to accepting payments? Now is the time to rethink your approach.
A lot of people remember Donald Trump descending on his escalator and his announcement to run for President. At the time political experts didn't think he had a chance along with 16 other candidates vying for the GOP ticket and were ready to write him off. However, he managed to hang on and gain support via non-traditional methods.
Traditionally candidates run by raising money for their campaigns. They run commercials which allow them to get their message out and sling mud at their opponents. Finding backers, gaining supporters, and asking for donations make these ads possible.
Trump didn't do that.
Much like Obama before him, he used social media to send out quick messages that allowed him to respond to events, media, and the news. News outlets then reported on many of the things he said, and it helped him gain attention and trend on social media.
Let Your Business Break With Tradition.
The paper check is slowly becoming a relic. In the past, people would willingly request checks from the bank and even pay extra to have a custom picture printed on them. Checks were handed out as gifts, used to pay utility bills, and were even commonplace in a grocery store. Nowadays gifts cards are more common. Utility companies allow customers to pay via IVR payment processing. Even the check out at the express lane has gone a lot smoother thanks to debit card readers by the register.
A U.S. Bank survey confirmed that the paper check is going the way of the flip phone.  The survey found that 29% of millennials, 16% of Gen Xers, and 13% of baby boomers have never written one. Even geographic data can be a factor. When it comes to paper checks, 21% of West Coast residents have never written one, compared to 15% on the East Coast.
If your business only accepts payments by check, you're hurting your own business and your competition will finish the job.
Why Are Checks Bad?
Checks cost money – People have to pay the bank for the privilege to writing checks, stamps and envelopes can be costly as well.
Processing time – The waiting game is a horrible game to play. Check payments aren't posted to your account until the recipient cashes the check. One miscalculation and your bank will issue overdraft fees.
Writing checks takes a long time – Before grocery and big box stores had debit and credit readers, a quick trip to the grocery store could take a while. That's because you'd have to wait for someone to write out a check by hand after their total went through. After that, the clerk has to verify the check writer's identity.
Checks are not secure – Would you hand out your address and bank routing number to a stranger? That's what checks do.
A Gallup Poll showed that just 13% of more than 17,000 consumers surveyed have a digital wallet on their smartphone. Newer smartphones automatically come with digital wallets. Apple, Samsung, and Google each offer their version of a digital wallet on their devices. In fact, a recent study by Chase Bank showed that 48% of those surveyed would prefer to make a payment by phone over using a credit card or check.
"We saw consumers step up their use of digital banking tools – especially mobile apps – in the last year," said Donna Vieira, CMO of Consumer Banking at Chase. "We continue to enhance our digital banking services to let customers bank how, when and where they want."
Make Text Messages Great Again.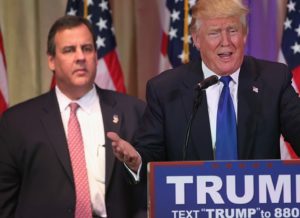 At rallies and news conferences, Trump even used his lectern as a means of prominent advertisement. Prominently displayed front and center, so that all the cameras would capture it, he displayed a five digit code that invited people to subscribe to his text messaging service. The idea of using text messages for a political campaign is not new. Both the Obama and Romney campaigns used this method in of 2012 to raise money.
According to the Washington Post, the subscription service itself was lackluster. One reporter discovered that subscribers were only getting messages during primary day in their local polling location. The messages themselves provided a hyperlink to either the site of the nearest voting location or Trump's official campaign store. No doubt to allow subscribers to purchase fashionable red baseball caps and other assorted gear.
The takeaway here is that text messages can be a great way for your business to get information out to your customer base. Research shows that people will read 98 percent of the text messages they receive. Trump could have used this method to accept payments. He didn't, but…
Your company can take this to the next level. Text messages can serve not just to remind your customers a bill is due, but allow them to make a payment. By accepting IVR Payments by text, your company offers customer flexibility and convenience when paying for your goods and services. You'll prove that you value their business, which will drive even more repeat purchases and increased loyalty. Our solution, Compass Pay, will allow customers to be able to pay for your product at any time.
Texts Are Safer Payment Solutions Than Checks.
Accepting mobile payments by text is safer than accepting them by check. Unlike with checks, the payment information of your customers is secure.  IVR Technology assures this by using PCI-DSS security measures.
Customers can send a text to a phone number provided, and after identifying themselves, enter their payment info. Their credit card, bank information, and all sensitive data is protected due to a process are known as tokenization. This means that sensitive data is replaced with a surrogate value that has no exploitable relation with the original, or a token.
Best of all payments can be reviewed, verified, and processed within seconds. A record of your customer's payment can then be stored in an online report for your review and your customer can receive a text that contains a confirmation of payment.
Swift And Secure
Your customers want payment solutions that allow them to make a quick payment, but they don't want their personal data to be compromised by identity theft. IVR Technology Group offers a solution that provides both. Convenient IVR phone payment solutions such as Compass Pay offers customers peace of mind.
IVR Technology developed Compass Pay by PCI compliance standards. All information stored or transmitted through Compass Pay is encrypted and processed on a secure server.
If you want your clients to make a quick, and secure, payment Compass Pay is the IVR phone payment solution your business needs. Our system allows your customers to make a payment and check their balance. We also offer the option to send notifications to notify your customers of special offers or remind them when a payment due date is near. Best of all your billing process can now be fully automated, and payments can be accepted 24/7 — even if your business is closed.