Need a quick and easy way to allow customers to make payments? Mobile payment options may be a viable solution for your business. Payments made by check are a traditional method of payment but don't offer much in the way of security.
Here's What You Need To Know About Mobile Payments
Mobile payment solutions allow for more flexibility. They enable consumers to make a bill payment using an online portal, via a phone call, or even a text message. Best of all, mobile payment solutions allow the personal payment information of your customers to be secure.
State of Mobile Payment Solutions
Earlier this year, the Pew Charitable Trusts conducted a survey on customer findings and experiences concerning mobile payments. They discovered precisely how widespread mobile payments have become. Forty-six percent of U.S. consumers have made a mobile payment. This translates to approximately 114 million adults. One factor that accounts for this increase would be the increase in smartphone ownership. Five years ago only 44% of all phones in the US were smartphones. This number grew to 76% in 2015.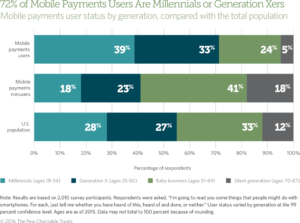 Another factor that would need to be taken into consideration would be the age of users that would most likely make mobile payments.
Millennials and Gen-Xers account for a combined total of 72%, whereas 41% of baby boomers are likely not to make a mobile payment.  This is likely because 90% of Millenials and 83% of Gen-X are more likely to own a smartphone. When taken into account with Baby Boomers, or older that means that 7 out of 10 American adults own a smartphone.
Mobile Payment Incentives
Why should your business consider a mobile payment solution? Because when a customer can make a payment over the phone, processing that payment can take minutes rather than days. At IVR Technology we offer solutions that allow customers to pay over the phone, or even with a text message. Both are of particular interest to your customers, as one of the main reasons customers want to make a mobile payment is to avoid paying an overdraft or check-cashing fee. 
Paying by text message is also a great option as customers can receive a receipt and verification of payment right away. It's far better than searching for a pen so you can write down a 15 digit number. Even if you manage to write it all down, good luck remembering what that sequence is for.
Text message reminders are much more effective. They can send out a quick reminder to a customer that a bill is due. Your customer can get a receipt on their phone.
Mobile Payments and Security
In the study, one of the most common concerns with a mobile payment solution were concerns about safety, precisely the risk of identity theft. This is a valid concern as identity theft can hurt the credit rating of your customers. This is why Compass Pay allows convenient payments, without compromising security. Our mobile payment solution is PCI Level 1 Compliant, the highest level of security compliance that a service provider can receive.
Your company can get started with Compass Payments Suite without having to install any additional hardware or software. It also allows your staff to shift their focus to needs that can better suit your customers, rather than just addressing their payment.
Is It Time To Add A New Payment Method?
Who among us hasn't paid a bill at the last minute? Maybe you just noticed it's the 15th and that an auto loan payment is due today. Is having to rush home, get a check, and hope the post office will be open the best method to make a payment?
For companies that accept payments by check Here're a few questions to ponder:
If a payment is postmarked with the payment due date but arrived afterward is it considered late?
If your customer can prove that they make a payment in good faith but somebody stole their check from the mailbox, would they still incur a penalty?
Do you have a dedicated staff member for processing checks? Do they have other projects that would provide a more significant benefit to your company?
Why go through the pain of having to answer these questions, when you can offer a flexible and convenient payment solution that customers love? The time is now.