With everyone working from home as we keep safe from infection, we thought it might be fun to show some of the work-at-home offices our crew enjoys. Eight of our team members have showcased their home offices below, along with a bit about what makes their office special to them. And while we're all making do, nothing can replace getting the team back together for fellowship and camaraderie.
Enjoy this look into what makes our team great, even when isolated.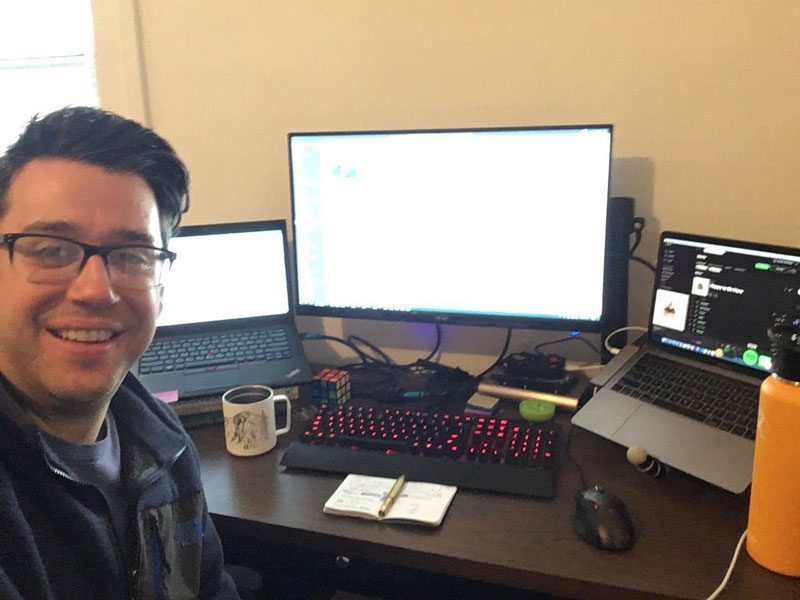 Clayton Northrup
My workspace is pretty simple. Music and coffee keep me going throughout the day. A window is nice to have that natural light coming in. I honestly love working from home. I worked from home for a while before working at IVR Technology Group so my space was pretty well set up already.
I suppose the biggest adjustment has been not being able to just walk down the hall to ask a question or help with something… but Slack has made that easier and I'm really happy how responsive we've all been to keep the communication open."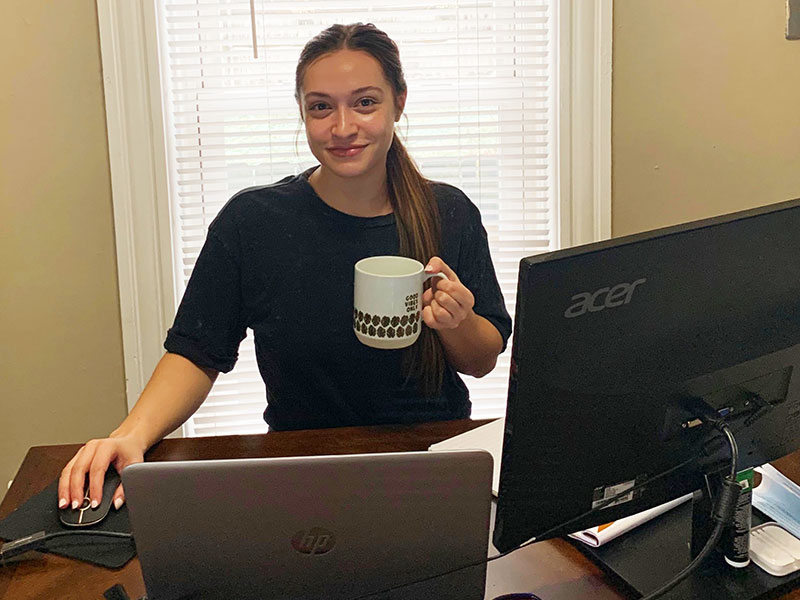 Taylor Cordova
What makes my space productive is the daily routine I have. Eat breakfast, check emails, and drink my coffee. I treat it as if I'm in the real office and keep work things separate from the rest of the house. I try and go for walks in the afternoon to get out and get some fresh air.
The thing that was hard for me to get used to was being in the house all day. I'm so used to running errands, driving to the office, and driving to the gym. Changing all that to only being in one place all day was challenging at first. However, once I gain a routine, it's been easier and would recommend anyone struggling to try and do the same.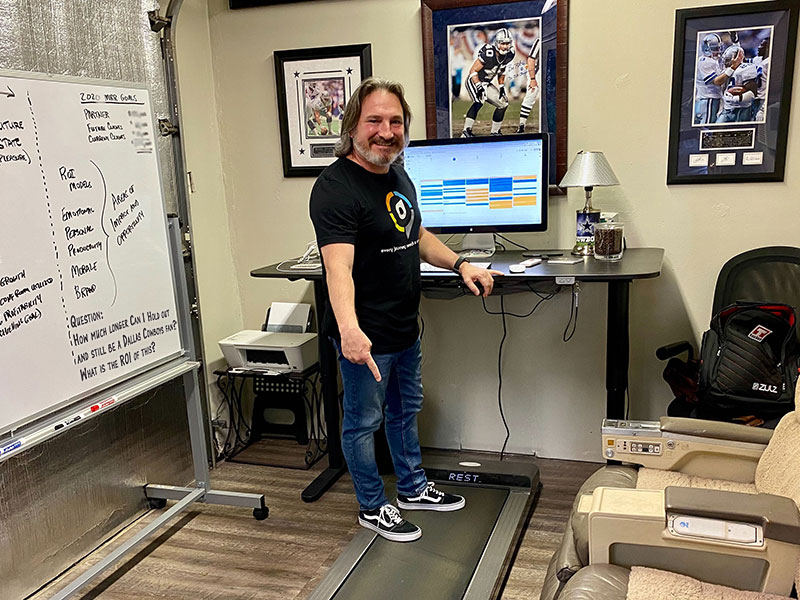 Jim Barker
What makes my space productive? My office is a converted motorcycle garage detached from my house. I'm usually in the office at 5:30 am each morning and walk on my treadmill throughout the day (5-6 miles) while working. It's pretty common for me to be on my feet from 5:30 am until 5:30 pm working behind my raised desk with my Dallas Cowboys memorability in front of me.
How to overcome challenges? I can't do much without a whiteboard. I bought a large whiteboard on wheels with two sides that flip. So, I can still draw his fancy funnels, stick figures and diagrams throughout the day.
For guests (family these days), my office is equipped with American Airlines 767 First Class seats (my wife is a 30-year flight attendant).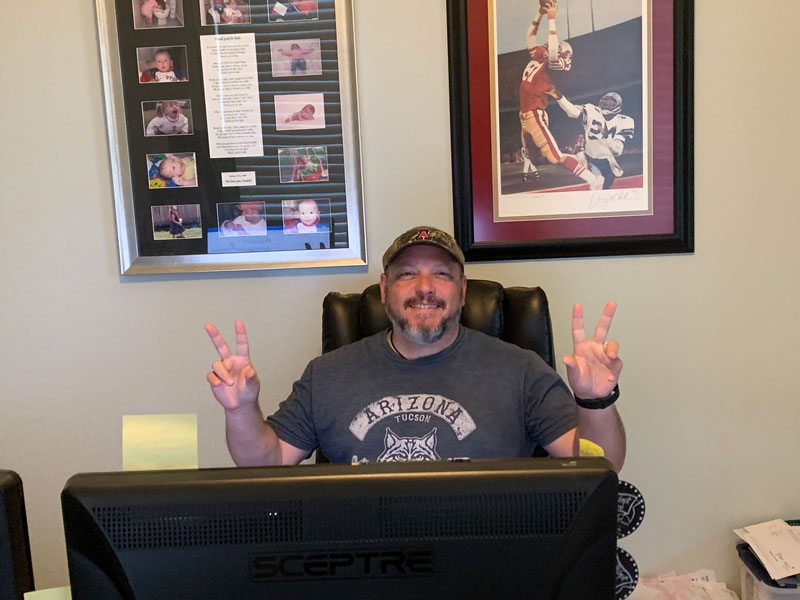 John Garite
What makes it productive for me is I make it 'office' and separate from 'home' activities in working a day like I would if I drove to the actual office. This is a routine and helpful for me as I have worked from home for a while.
The challenges we overcome here currently – My wife is now working from home and my kiddos are schooling from home, we overstep each other from time to time. When we have meetings or school presentations, we add it to the calendar in the kitchen, so the others know to grab a bite or have a chat in another area.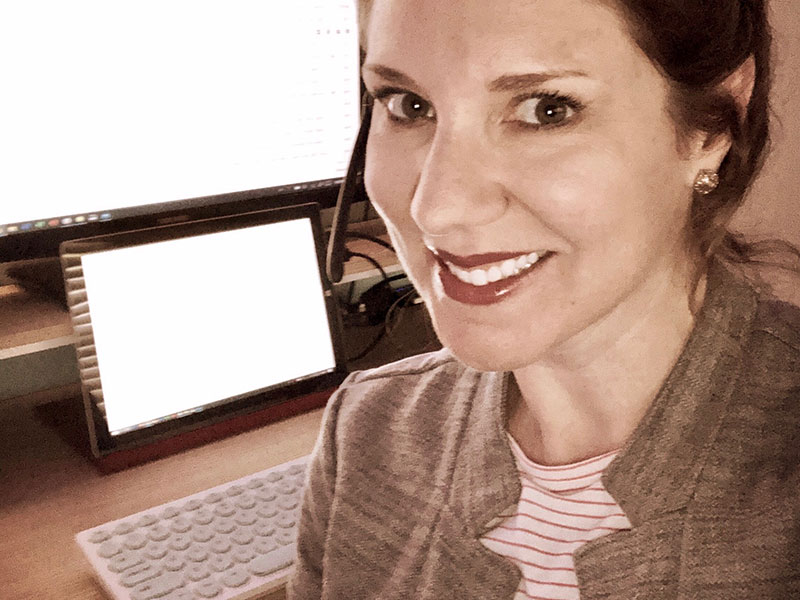 Katie Qatato
I work off a laptop, so in working at home I've found that connecting to a larger monitor not only keeps me from straining to read but also anchors me to my deskspace more.
When it comes to staying productive with kids "remote learning" from home, getting organized at the start of each day is important. I have their Chromebooks charged and ready to go each morning, and during breakfast, we review what school studies need to be done so that once we've finished our meal, everyone can begin their work for the day."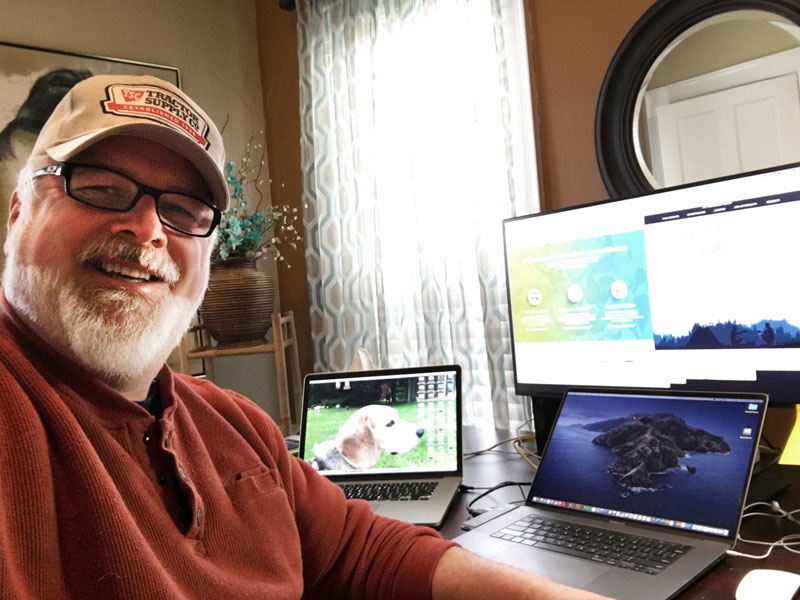 Bill Irvine
I suppose you could say, in my case, I'm working from the farm. We have a small three-acre homestead out in the country, which is a tremendous diversion from high-tech online business life. The inspiration I get from the artwork in my home office helps with productivity and creativity.
If that's not enough to reset the brain, all I need to do is step outside with our dogs, cats, and chickens. Oh, yeah, and my wife too.
We're getting ready for new livestock arrivals this spring, so I get to put on my carpenter hat and get busy. So for me, it's an ideal home office environment, absolutely no commute from managing digital marketing to building a house for goats.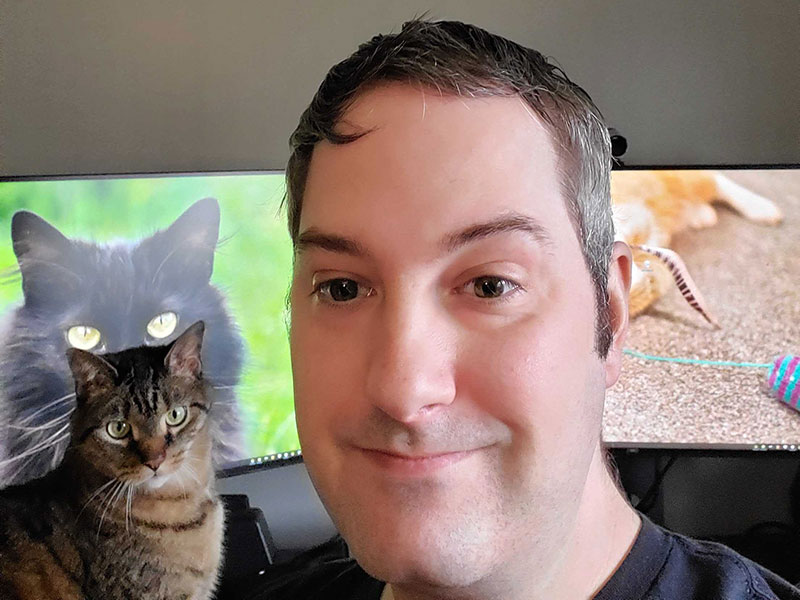 Jesse Becker
I have a similar setup at home that I have in the office (multiple monitors, docking station, etc) as I often work late maintenance windows. So working from home was not that great of a shift for me as it may be for others. I do miss seeing everyone, but at least I have a reliable assistant at home, Sullivan.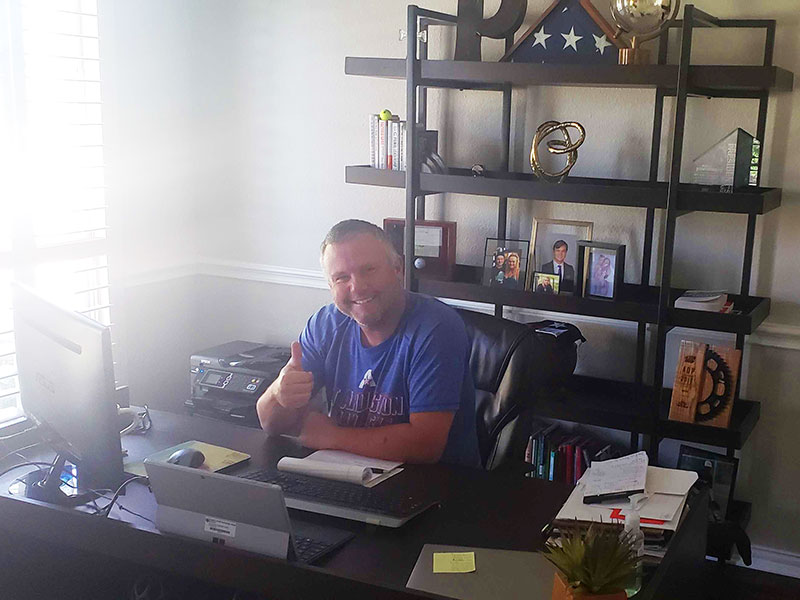 Jason Potter
This is where I spend my time when I'm not golfing. When I am in my home office, I keep my productivity finely honed by writing down all the places I'll be golfing next. Or, I'll also make lists of the golf shoes I need to buy. You've heard of "sneaker freaks," well, I confess to being a golf shoe freak. We're called "Cleat Freaks" and often scour eBay for hard-to-find rare editions.
Sometimes I sell something.
about the author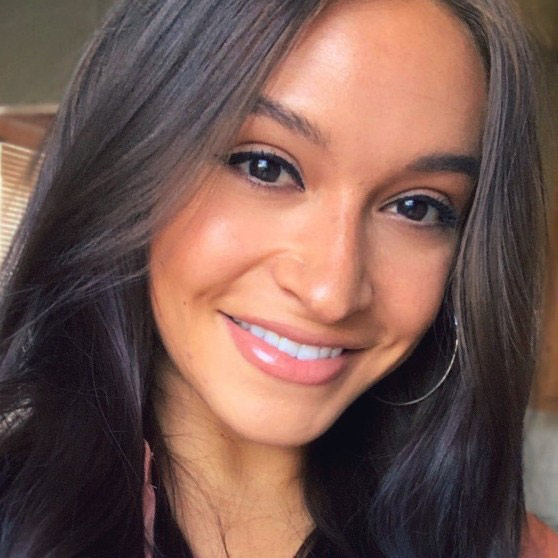 Taylor Cordova EA & HR Generalist
Taylor is a Executive Assistant and HR Generalist at IVR Technology Group. She loves bringing people together and enjoys the company of others. She wears multiple hats at IVR and is involved in varus projects within our business. When the Buffalo weather allows, Taylor enjoys being outdoors; hiking, boating or even walking around farmers markets.