At IVR Technology Group, we're all about security. I just found a Kickstarter project that, in short, is able to use your fingerprint & only

your

fingerprint to store important data via a USB. It's called iTouch ID by iTouch ID Ltd [how ironic, right?]. Being at IVR Tech Group, I've learned more about the importance of security when it comes to products in this industry than I know what to do with! 
---
Picture this: You just got home from work, it's 3:57 pm and your utility service only accepts payments until 4pm in order for it to go through that day. Word of Advice: Don't ever procrastinate this much.
You realize that when you go to pay the bill by phone [PayIT], your credit card information isn't on file, nor can you find your credit card in that the moment. Just your luck, right? Luckily you remember you just bought the "iTouch ID," so, you find it and pop it into your computer [if your computer isn't near then, this whole scenario needs to change, but for right now we are going to act like it is]. Keep in mind, you recently programed your "iTouch ID" to store your credit card numbers and passwords for majority of your billing accounts. All of which was done in good faith because you know that the only person that has access is you/your fingerprint.
---
You manage to make your payment at 3:59pm with a minute to spare, so you praise your new "iTouch ID" device.
---
Now, for all of you devil's advocates out there, your main concern is: "What if someone takes my fingerprint CSI style and tries to use it to access my information via iTouch ID?"
In response, iTouch ID Ltd. states, "No hacker in the world can get access to your fingerprint – because the image is not stored!"
The only thing you have to worry about [if you're worried at all] is losing it. The great news is [if you don't lose it, but are clumsy like me] the Kickstarter device resists scratches, impacts and is completely waterproof. So — go ahead! Spill your coffee, step on it, do whatever you want!
---
If something happens to your iTouch ID, the company does offer a five-year warranty. To learn more about the "iTouch ID," visit their Kickstarter campaign for the full scoop. It's one of the most-organized campaigns I've ever seen. Not to mention, it's made with aircraft grade aluminum, has a fingerprint sensor with 500 pixels per inch, and a unique identifier per device for two levels of authentication. Oh and did I tell you it's the smallest fingerprint USB scanner in the world? Jackpot!
---
Sign Up for Our Newsletter
Get our best articles in your inbox every month, introducing you to new trends, industry insights,
best practices, and anything else you need to achieve business success.
Contact Us for More Information
The following two tabs change content below.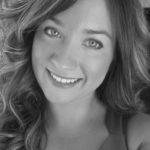 Ashley
Ashley has a Bachelor's Degree in Journalism and a Minor in Writing. She's a firm believer that hard work pays off and is currently trying to make her mark in this crazy place we call the world.