Chirag serves as the Director of Operations at IVR Technology and as the VP of Customer Success. Chirag loves technology and is fascinated by how we interact with the technology that surrounds us. He spent several years in public accounting before making the jump to starting and growing a web development firm, which was later merged with IVR Technology Group.
Chirag is involved with a venture accelerator in Upstate New York, is a co-founder of a healthcare technology startup and he also sits on the board of a local non-profit. Chirag has been invited to speak at several entrepreneurship and technology conferences. In his spare time, he enjoys writing, consuming science fiction, sipping philosophy, going on hikes with his wife and tending to his vegetable garden. Chrag is married and has one son.
The following two tabs change content below.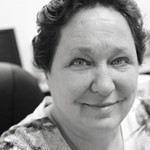 Kim Crawford
Kim has worked for the company as a programmer, media designer and web developer. She develops and manages the online applications for client reporting and APIs.