IVR Tech Group is proud to welcome three new employees to our company Ryan Wagner, Brittany Mruczek, and Wade Hauser. Each of them has interesting backgrounds that helped to develop their professional careers.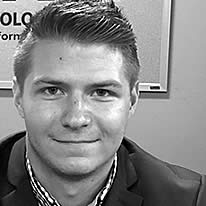 Ryan Wagner is our new Sales & Business Development Manager. He helps promote our suite of services such as nRepsonce, which helps companies send out simultaneous messages to their base. Before he started at IVR Tech Group, he was in the Arctic Circle. "I worked for Pacific Environmental Corporation on the Northern tip of Alaska," he said, "I was Hazowoper certified to deal with spills and chemicals." While in Alaska, he was getting his Business & Economics degree from The State University of New York College at Cortland. He was even a 3-Year Captain of NCAA Men's Ice Hockey team. He decided to stay in NY after school, and ultimately joined our company.
His personal motto is to "Do good things." He explains, "It can be applied to anything, and it's easy to reinforce in yourself. Whether it's during a game or at work, I remind myself to do my best. Then I let that take me where ever it takes me, and I say that 1,000 times a day."
Wagner – 2028?
He also has a love of politics, granted not on the grandiose scale of the national scene. Ryan even sees a connection between jobs in the tech sector and politics. "So maybe one day a long time from now I could run for office somewhere!"
Ryan also has musical talent. He writes and plays his own music. "I play guitar mostly, but I can play a bunch of other instruments as well and record everything myself."
Musical Passion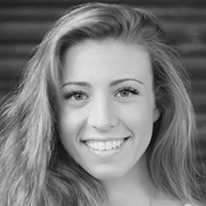 Brittany Mruczek was hired as an Administrative Assistant and will soon be the newest vocal talent for IVR Technology. She has experience as a paralegal, for which she gathered and prepared legal documents for attorneys. She also made sure to stay in communication with clients, and kept them updated on cases, to provide the best service possible.
Her personal motto is to be passionate about what you do, with faith and love. Her true passion, however, is the theater. "I love performing," she explains, "I have been singing/acting ever since I was a child." She also has a Masters Degree from NYU in Master's Degree, Voice, and Opera. This past August, Brittany made her professional debut with the Rochester Lyric Opera as Mademoiselle Silberklang in The Impresario by Mozart.
Therefore this will easily transition to voice over work. "As a singer, I'm very used to performing and in a way I see voice over as a performance, she said. "I've recorded two CDs but never recorded just my speaking voice. It's a little different in that respect, but I think the overall idea is the same."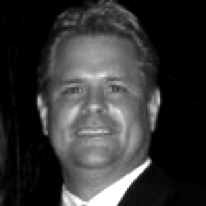 Last but not least IVR Technology Group is proud to welcome our new Vice President Business Development, Wade Hauser. Wade has over 20 years of sales experience and still love the challenge that it brings. He mentioned that he looks for four qualities in a leader, Honesty, Balance, Consistency, and Empowerment.
By listening to the needs of a client, he is able to develop a solution that will meet those needs.
"Persistence, humor, being myself are how you make a living in sales without losing too much of your soul," he says. "They say WOW them with your service or product. I say WOW them with you. No matter how great technology becomes people still want to buy from who they like."
He enjoys being part of a motivated and energized team. "I like to believe I work hard in a great culture," He says. "The older I get, the more important culture has become to me."
Wade is also a member of SOCAP, a member-driven organization committed to promoting customer care and engagement. For one of their conferences, he gave a speech that emphasized the impact of some of the top member brands that impact his day-to-day life.
What was impressive to me was how Wade managed to perform this speech without the use of notes. I discovered it was because it was mostly improvisational. "I practiced a little bit before I went up on stage," he said, "It was a huge rush when everyone started to stand up and applaud. Blew me off the mic."
The following two tabs change content below.
Andrew F
Andrew is responsible for generating and delivering reports for our customers. His professional experience in customer relations allows him to identify and analyze customer issues with proficiency. Combined with his expertise in GIS Analysis, he creates presentations that allow our customers to see opportunities for growth.