Answering Service for Healthcare with MDCall by iAnswer
Automatically Route Calls With Precision & Speed
Our answering service for healthcare, automated answering service combines interactive voice response systems with integrated phone, Internet, and paging services handles. MDCall by iAnswer features accurate call handling, reliable and consistent service, and complete control over call management.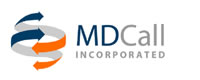 Using the iAnswer Call Management tool, we built MDCall, a complete answering service product for the medical industry. MDCall by iAnswer is a Voice and mobile solution that simplifies patient to provider and nurse to physician communication.
MDCall by iAnswer delivers up to 25% savings over traditional answering services and increases office productivity by as much as 40 person-hours per week.
Robust Answering Service for Healthcare
Accuracy and Consistency
MDCall by iAnswer picks up all inbound calls on the first ring and never places callers on hold. Callers are directed through the call process you predetermine. Custom call flow means correct inbound and outbound messaging every time.
Precise Call Flows
We work with you to develop a precise call flow process, based on your existing workflow and protocols. Once in place, each inbound call is directed through the process landing with the right person every single time.
Unified Messaging
MDCall by iAnswer acts as an electronic organizer. Productivity features such as voicemail-by-email, web-based on-call schedule management, and mobile messaging help each clinician utilize their time efficiently. Employees can forward stored voicemails to one another or send a single message to a distribution list.
Easy Contact Management
Employees can easily manage their specific work schedule contact preferences. Settings can be changed over the phone or via the web and go into effect immediately. MDCall by iAnswer organizes individual employees accurately and responds effectively.
Protection from Liability
MDCall by iAnswer keeps a record of all incoming messages over a time period determined by the client. All outbound call logs are kept indefinitely. Voice messages are downloadable from the MDCall by iAnswer server onto your hard drive.
Convenient Notifications
Notifications are based on employee preferences. Your VP of Sales can choose to receive e-mail alerts while your Marketing Coordinator gets phone calls. Notifications escalate according to urgency, with emergency calls notifying the phone tree until addressed and less immediate calls queued for a later response. Based on your instructions, MDCall by iAnswer will know how to contact employees according to their individual work schedules & contact preferences.
Call Escalation
Providing fail-safe notification means every outbound page is logged. If the call is not responded to within a specified amount of time, MDCall by iAnswer will automatically follow your call escalation protocol. The system intensifies its efforts to reach the desired clinician by re-paging, utilizing alternate contact devices, and even calling alternate personnel, if required. Notification management insures the message gets through. SMS, conventional pager, e-mail, or PDA are all communication options available.
Your business can start using our Answering Service for Healthcare, MDCall by iAnswer, with no initial upfront expenditures.
We provide more services while charging you much less than traditional live operator answering services.
Ready to Get Started with MDCall by iAnswer?
You only pay for what you use. There are no high fixed monthly costs.
Sign Up Today