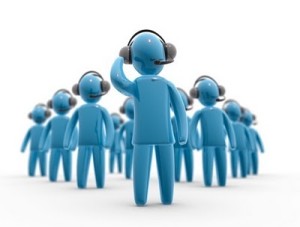 A few of our clients have mentioned that they think that only massive call contact centers need a solution to manage their calls.
This is a common misconception. In reality, every size business can benefit from instituting a cloud-based contact center. In fact, even if you have 5 or 6 people who are on the phone all day, a hosted contact center can streamline your operations, making your employees more productive and your business more profitable.
In order to be most effective, you'll need to make sure you invest in the right solution. You don't need a solution that's set up for a 300 employee insurance agency if you're a paper company with a three-person customer service department.
Here are four things you can consider as you search for a hosted contact center:
Scalability – Monitoring and tracking the effectiveness of your hosted contact center is essential. You should also be able to make changes to suit your needs as necessary.
Functionality – Ensure your hosted contact center not only supports, but also improves, your business operations. It
Integration Options – Further streamline your business operations by aligning your hosted contact center with your CRM system. This flow should be seamless. If it's at all possible, see if you can get an example of a time where your vendor has worked with a client that uses the same CRM you do.
Customization – As discussed above, this is the most important aspect. Make sure you'll be working with a company who can meet your specific business needs.
Additional benefits to look for:
Skill set routing: save time and make your customers happy by getting your callers to the person who can best help them resolve their issue.
Call recording: facilitate performance reviews, quality control and agent training or simply review a conversation
Management interjections: for new agents who still need some guidance or experienced agents handling a tricky situation. Supervisors can listen into conversations and speak up if necessary.
For more information on IVR Tech's hosted contact center, click here: http://www.ivrtechgroup.com/hosted-contact-center
The following two tabs change content below.
Kristen S
Kristen is responsible for managing all of IVR's marketing efforts, including all of our digital media, managing partner relationships, driving leads and generating interest in our products and services.
Latest posts by Kristen S (see all)